How To Check ePASS Scholarship Status – Telangana and Andhra Pradesh: The students in the Telangana State and Andhra Pradesh who are perusing their education either Pre-Metric (Lower classes to 10th class) and Post Metric (After SSC) scholarships. The engineering students have applied for reimbursement scholarships. Here we are sharing how to check your e-PASS scholarship status. 'e-PASS' stands for 'Electronic Payment & Application System of Scholarships' which is processed by the state government electronically through the application system. You can check ePASS scholarship state for TS and AP (Telangana State and Andhra Pradesh). Fee Reimbursement Application status can be also tracked for B.Tech JNTU Jawaharlal Nehru Technological University, Hyderabad (JNTUH, JNTUK, JNTUA), OU (Osmania University), B.E, B.Tech, M.Tech, M.Pharmacy, MBA, State level schools colleges pre-metric and post-metric SSC intermediate for all OC, BC castes, and general for all years 1st year, 2nd year, 3rd year and final year or fourth year.
How To Check e-PASS Scholarship Status Online TS & AP:
To check your e-PASS scholarship status, you need to follow the below steps properly so that you can check your application details as well as scholarship information. Epass scholarship status 2017-2018-2019 Telangana and AP.
1. Go to e-PASS website:
Visit the e-PASS official website http://telanganaepass.cgg.gov.in (for Telangana) and http://apepass.cgg.gov.in for AP (Andhra Pradesh) Students. Then a page will be displayed to you to choose your state either Telangana State or Andhra Pradesh. Select your state and proceed to check the scholarship. As soon as you click on your state ePASS a page will appear for the security of the website. After seeing this page click on 'ADVANCED' then a message will be shown "This server could not prove that it is telanganaepass.cgg.gov.in, its security certificate is from epasswebsite.cgg.gov.in", Click on "Proceed to telanganaepass.cgg.gov.in". Note: In some cases, this screen will not be displayed you will directly reach to the website.
2. Go to 'Scholarship Status' Section:
After you proceed to the ePASS website the new page will be opened, roll the roller of the mouse and you will see 'Scholarship Status' below the 'Kalyana Lakshmi' section. Simply click on 'Scholarship Status' to check your scholarship status.
3. Enter Application Details:
After you click on 'Scholarship Status' the new page will be opened where you have to select 'Pre-metric' or 'Post Metric' scholarship and enter your ePASS application number. To check your 'Scholarship Status' for 2016 ePASS scholarship you need to enter the ePASS application number starting from '2015xxxxxxxx'. Select the academic year '2015-2016'. Then entering your SSC hall ticket number with the year of the pass. Select 'SSC pass type'. If you qualified SSC in the first attempt then select 'AP Regular'. Finally, enter your date of birth. If your date of birth is 01-01-1995. You need to enter it as '01011995'.

4. Check Your Details:
After you enter all your details and click on 'Get Status' you will be shown your details with the photograph and all recent scholarship transactions.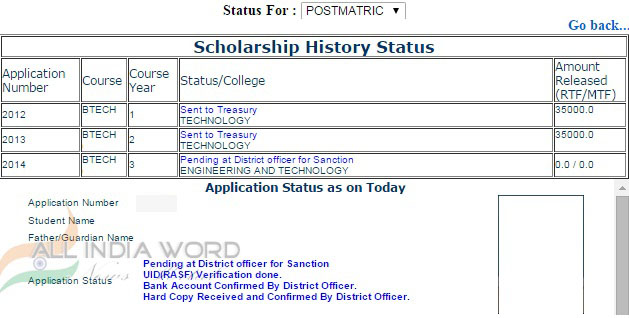 All your details like name, father's name with your photograph and recent data will be displayed here. And the application status will also be displayed here. "Sent To Treasury" means: The scholarship has been sanctioned and sent to treasury and treasury department will forward to your bank account. "Pending at DO for Sanction" means: The scholarship has not been sanctioned yet.
All the Telangana and Andhra states scholarships will be sanctioned soon, as soon as it is sanctioned we will update here on 'ALL INDIA WORD', so stay tuned and try checking this page for latest updates on Scholarships, JNTU, Education, Elections and Technology. Check Here to Like us on Facebook and don't forget to subscribe us. If you have any Doubts Comment below!